KINGSTON BOOTCAMP ** Fitter and Stronger in 2019 !**
KINGSTON BOOTCAMP is for all ages and abilities. There is no comparison to training outdoors amongst the elements. No workout is ever the same. Includes a combination of cardio (walking, running, boxing) and strength training using body weight and/or additional weights.
No specific level of fitness required. Benefit now from a professional guided workout every step of the way. Just turn up and enjoy yourself. Winter sessions are conducted indoors for obvious reasons and the sessions are just as beneficial.
Each session is designed to become progressively harder. As your fitness increases, the sessions become more challenging. Push yourself and the faster you will see results.
REGISTRATION PROCESS
Register online (for New clients/Living Social).
Payment (for Existing clients via Paypal).
Workout.
SESSION DETAILS
WHEN (60min Class) -

Monday 6:00am & 6:30pm
Wednesday 6:00am & 6:30pm
Friday 6:00am & 6:30pm
WHERE:

November to March (Summer)

Mornings: Kingston Beach Oval, Kingston Beach.
Evenings: Tarremah School Oval, Huntingfield.

April to October (Winter)

Mornings: Tarremah School Stadium, Huntingfield.

Evenings: Tarremah School Stadium, Huntingfield.

TIMETABLE - Click HERE.
COST - $130* AUD (4-weeks Unlimited. Attend up to 24 morning/evening sessions). 5 weeks $160. Casual $15 pp regardless of age. Payment due prior to attendance. *Add $10 if paid after start of the monthly block.
FAMILY DISCOUNTS - If both parents pay for the month, additional immediate family members are FREE. Kids 15 and younger are FREE with at least 1 paying parent (for the month).
GENERAL
60min duration - Warm up / Workout / Cool down.
Please bring water, appropriate clothing/footwear, small towel.
Pre-screening conducted at initial visit
Testing is conducted at the start of each month. Refer to Week 1 per our timetable.
Boxing conducted every Wednesday. Inners/white gloves are required for these classes. Bring your own or purchase from us $5. Optional wraps can be purchased for $10.
Although preferred that you begin at the start of each block, you can start anytime. Just following registration process and arrive 10min earlier.
No yelling, just fun, safe, effective training that gets results for people all shapes and sizes.
Nutrition support as requested.
Follow us on Facebook for updates: Tazfit Personal Training and Bootcamps.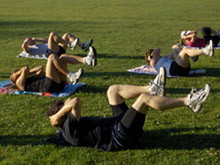 REGISTER: KINGSTON BOOTCAMP (KBC)