Why TAZFIT?
A Unique Blend of Nutrition, Exercise and
Support to help you with your goal
Dan's Background
Whatever your health and fitness goals are, look no further than Dan Lemoto. Dan's passion for helping others has been life long, and it stems from a young age. Whether it was at school teaching friends to draw or read, on the rugby field creating opportunities for the team to win, taking hits from a child who bullied others in the 4th grade just to save others from getting hurt, helping others improve their basketball game, teaching people to defend themselves and/or saving others from being beaten in alleys, teaching people to manage stress or simply sacrificing his own income to give colleagues a pay rise. Whether its fat loss, injury, fear, inexperience, mental health issues, yoyo dieting, Dan has a plan to help you change your life!
Dan Lemoto, is the Founder and Director of Tazfit Health Group. A highly experienced Registered Exercise Professional specialising in Strength and Conditioning, Fitness and is a Registered Athletics Coach with Athletics Australia. With over 30 years experience, Dan also covers Sports Performance Coaching (Running technique, Sprinting, Distance), Obstacle Course Training, Injury Management, Workers Compensation, clients with Disabilities, Military/Fire/Police Fitness, Self Defence, Mindset Training, and is a qualified Stretch Teacher.
He is the founder of the Day On Day Off Nutrition System coupled with a background in Nutritional Psychology. He developed a system over 17 years for older adults known as Aged Care Exercise and has currently operated commercially with Community Based Supports' "Gentle Exercise Program" for the past 9 years. He supports this function as a Qualified Arthritis and Joint Movement Instructor, with knowledge in Falls Prevention. Dan has worked with Organisations, Schools, Clubs and Corporate business.
Dan's Academic, Corporate, Military and Martial Arts background, along with being an accomplished Athlete (Age based Track and Field record holder and club record holder in the 60, 100, 200, and 400m), and being a Family man, adds to his broad repertoire of skills when working with his clients.
Dan's interests are track and field, mental health, training philosophies, psychology, rehabilitation and pain management, martial arts, watching documentaries, fishing, and spending time with his family and two pugs.
Some Achievements Over The Years
Strength Equivalent to 14 years at 8 years - Menzies Research Institute
1,000 squats 24min
Broke 1KW Power - High School
20 x 820kg Leg Press (Short Range)
250kg Bench Heavy Hold 5s
300kg Squat Heavy Hold 5s
Pullups x 3 with 3 x 20kg Plates 80kg BW
250kg Deadlift
100m 10.99 sec (Electronic)
7% Body Fat
World OCR Championships (Elites) 26th 2014
400m World Masters Athletics Championships Bronze Medallist 2016
Multiple Winner over 60m, 100m, 200m, 400m, 4x100m Relay - State, National Masters, Masters Games Gold Medallist - Athletics
Multiple Winner over 70m, 100m, 120m, 200m, 300m, 400m, 4x200m Relay - Professional Running - Athletics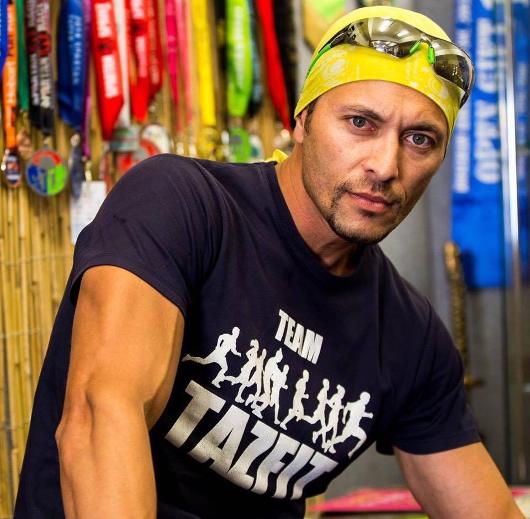 Aged Care Exercise Service