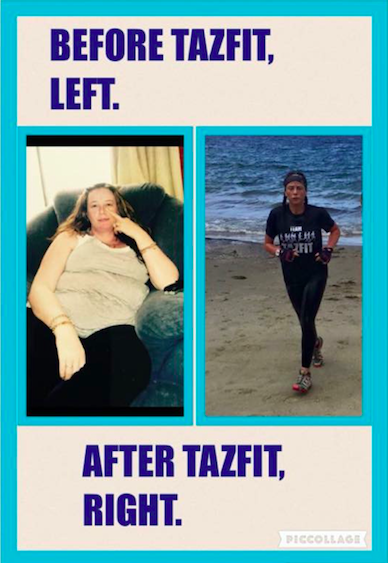 James, 12.01.2017
I wouldn't train with any other personal trainer. Dan's calm and knowledgeable approach to training has helped me achieve results that I thought were no longer achievable. Over the past 3 years I have participated in personal training, boot camp and OCR sessions with Tazfit. I started out with the simple goal of losing a few kg's but quickly found that Tazfit was more than a seasonal weight loss fad. 3 years on and I am feeling fitter, stronger and healthier than ever before. I have not only managed to lose 33 kg but have also increased my maximum dead-lift by 70 kg. I have also finished both the Spartan Sprint (7 km) and Spartan Super (14 km) races in Melbourne and Sydney. Whether you are looking to lose weight, build strength, eat healthier or want to challenge yourself? Then I would highly recommend signing up to Tazfit today!

Felicity, 23.7.2015
I have been going to Tazfit in Kingston for about 2 months now and from the first time I attended my first Bootcamp I knew I had found my fitness home.
In the last 2 years I have tried out other boot camps and personal trainers and Dan's training and Tazfit is unique to anything I have tried before. It was exactly what I had been looking for. Dan has this ability to motivate and inject positive support without being intimidating or overbearing. He has put his belief in my ability, which in turn has made me believe in myself.
The Bootcamps are fun and supportive and there is a real team spirit that exists amongst its members which I have quickly become a part of. His background, education and training has taken me to a level of fitness and opened doors I never thought possible.
He is thorough, professional and always ensures you train at a level that is at your capacity so you are training safely. Since I have started training with Dan I have lost a little over 10 kilos and 60+ centimetres off my entire body.
My goal is to prepare and train for the Spartan races in the new year and attempt to get the trifecta trophy and I believe with Dan's help that will happen!
Michael, 60, 9.8.2014
I would like to acknowledge Dan's accomplished training methodology that prepared me mentally and physically for a recent heart procedure I had at the Royal Melbourne Hospital. Dan has been my personal trainer for up to 4 years and has always been most assiduous in conducting my training regimen. His preparation for this operation limited my days in hospital and post recovery time. I am indebted to his commitment, expertise and continued support.
Rebecca, 16.5.2012
I am only in my first month of boot camp training but look forward to the many months ahead as I work toward reaching my goals.
When you are very overweight there is always a certain fear when it comes to taking the plunge and taking those first steps toward changing your life. Signing up for boot camp was a huge deal for me and honestly, I was terrified.
I needn't have been though.
Upon meeting Dan I was impressed with his professionalism and the respect he shows to all his clients.
There is no judgement from Dan, instead he offers honesty, integrity and professionalism with an immense amount of support. I have found Dan to genuinely care about his clients, to show pride and offer encouragement as he helps you work toward your goals. He shares in your achievements and offers his advice and support without question. He wants you to succeed, he wants you to be the person you so desperately want to be and guides you to a sense of empowerment. You couldn't ask for anything more in a trainer.
Dan's sessions are intense yet fun and there is a real sense of camaraderie. The knowledge he shares at each session is invaluable and Dan's openness in sharing this knowledge is greatly appreciated by me.
I think very highly of Dan's boot camps and his training, and if anyone is serious about changing their life, losing weight and getting fit then you couldn't ask for a better person to help you.
Dr Beresford, 57, 25.10.11
I have worked with Dan Lemoto as my personal trainer for over 6 months and have found he excels in the following;
Knowledge and expertise
Session preparedness
Teaching acumen
Dan has a warm and engaging personality, and brings a committed and caring approach to the particular challenges of each session. Whilst maintaining a comfortable and supportive environment for my physical training, Dan is always focussed on the job at hand and each session builds incrementally to meet the goals of the program. The gym environment I work in is private and personal and could be described as
retro
chic. I have found it to be decidedly stimulating for developmental training.

The sessions with Dan 3 mornings a week have become an integral part of my working life. I fully endorse him as a personal trainer.

Mardi, 43, Kingston
Sessions with Dan are exceptionally varied and fun. He is able to accommodate me within the group, despite the limitations of injuries, and still provide challenging workouts, and is an important part of keeping me mobile. His constant good nature is always refreshing first thing in the morning!.
Tony, 55, 29.10.11
I have known Dan for nearly two years and have formed a great friendship with him. I asked him to be my personal trainer recently and like all true friends, he was honest in his appraisal of my level of fitness...or lack thereof!
I have been a regular gym user for some 3 years now and am 55 years old. I felt I needed further assistance in developing my body and mind, especially after a near death experience with blood clots in 2010. Dan has been really helpful in designing an exercise program for me. His holistic approach to exercise and diet is already helping me travel the path to achieving my desired results and also assisted my rehabilitation from my health problems.
There is no easy way to reach the goals that I have set for my fitness, but I know that the journey will be easier with Dan's encouragement and caring approach.
Jenna, 25
I have been attending Kingston Bootcamp for 6 months now. I came across a flyer in Kingston advertising free Bootcamp sessions if your BMI was over 35 and I thought why not, I will give it a go!
I have lost around 10kg through regular Bootcamps and maintaining a healthy diet. I find Kingston Bootcamp fun, energetic, and a great way to start the day! I have a lot more energy during the day when I have attended Bootcamp in the morning.
Khan, 27
Thank you for all the effort that you have made in training me recently. You are an incredible coach and your style has made a significant difference to my results.